The new Lympha Press ® Nano Press, model 760A is a compact, user friendly cost-effective system designed for quality home treatment. The system offers sequential compression, with user selected treatment time and pressure from 20-80 mmHg. The product is compact, very easy to operate and Multi-Voltage.
Multi Voltage – convenient for travel
Four Chambers
Light weight
Easy to use
Cost effective devices
Primary lymphedema
Secondary lymphedema
Venous insufficiency
Venous stasis ulcers
Dysfunction of the muscle pump
NanoPressTM is intended for use by patients at home, and by medical practitioners in clinics.
Use of the NanoPressTM system is not recommended in the presence of one or more of the following conditions:
Known or suspected deep vein thrombosis or pulmonary embolism
During the inflammatory phlebitis process
Acute infection of the affected limb
Decompensated cardiac failure
Severe arteriosclerosis or other ischemic vascular disease
Any circumstance where increased venous and lymphatic return is undesirable
Due to movement of fluids in the body when using the system, be careful with patients that have heart disease. Using high pressure is not recommended for patients having peripheral occlusion disease.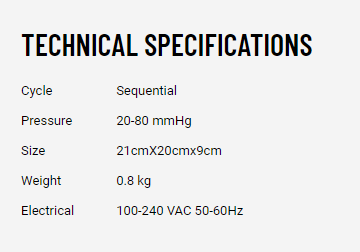 AMAY ENTERPRISES - YOUR BEST
CHOICE FOR COMPRESSION
GARMENTS, SILICONE BREAST
PROSTHESIS OR COMPRESSION
THERAPY PUMPS
A WIDE RANGE TO SUIT YOUR
REQUIREMENTS.
FOR MORE INFORMATION,
PLEASE CALL
+91 9999 884 109, 9811 120 153
At Amay Enterprises our aim is to offer unique and most advanced compression garments which help patients recover fast. We deal in wide range of Compression Garments, Silicone Breast Prosthesis, Silicone Gel Sheets, Compression Therapy Pumps and more in NCR and North India.
COMPRESSION STOCKINGS
COMPRESSION ARM SLEEVES
LIPOSUCTION GARMENTS
SILICONE BREAST PROSTHESIS
SILICONE GEL SHEETS
AMAY ENTERPRISES - YOUR BEST CHOICE FOR
COMPRESSION GARMENTS, SILICONE BREAST
PROSTHESIS OR COMPRESSION THERAPY PUMPS
WE ALSO OFFER COMPRESSION THERAPY PUMPS,
SILICONE GEL SHEETS, COMPRESSION SLEEVES,
STOCKINGS, ABDOMINAL BINDERS & MUCH MORE
A WIDE RANGE TO SUIT YOUR REQUIREMENTS. FOR MORE
INFORMATION, PLEASE CALL +91 9999 884 109, 9811 120 153

ADDRESS: 1046, BASEMENT, BLOCK - C, SUSHANT LOK - 1, OPP. VYAPAR KENDER
GURUGRAM - 122002, HARYANA (INDIA)
MOBILE: +91 99998 84109, +91 98111 20153