PCD-51™ is a compact, user-friendly, sequential system with adjustable pressure and time designed for quality home treatment. Pressure is adjustable from 20 to 80 mmHg to accommodate a variety of clinical situations.
Fully variable range from 20 to 80 mmHg
Treats one or two limbs simultaneously
User friendly
Lightweight and portable
Multi-Voltage – convenient for travel
Choice of four or eight chamber garments with Lympha Press® overlapping chamber design
Single patient use garments and extra-wide sizes are available
PCD-51™ can be used with all Lympha Press® four and eight chamber garments:
Lympha Press® , 4 Chamber Leg Sleeve
Lympha Press® , 4 Chamber Arm Sleeve
Personal™ , 4 Chamber Leg Sleeve
Lympha Press® , 8 Chamber Leg Sleeve
ComfyLite™
PCD Pants ™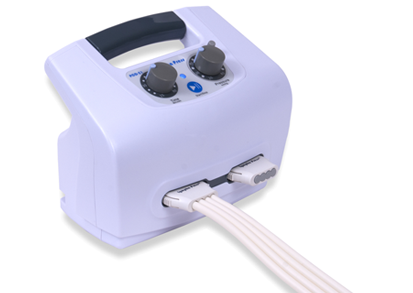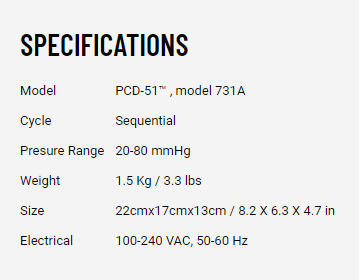 AMAY ENTERPRISES - YOUR BEST CHOICE FOR
COMPRESSION GARMENTS, SILICONE BREAST
PROSTHESIS OR COMPRESSION THERAPY PUMPS
A WIDE RANGE TO SUIT YOUR REQUIREMENTS.
FOR MORE INFORMATION,
PLEASE CALL +91 9999 884 109, 9811 120 153
At Amay Enterprises our aim is to offer unique and most advanced compression garments which help patients recover fast. We deal in wide range of Compression Garments, Silicone Breast Prosthesis, Silicone Gel Sheets, Compression Therapy Pumps and more in NCR and North India.
COMPRESSION STOCKINGS
COMPRESSION ARM SLEEVES
LIPOSUCTION GARMENTS
SILICONE BREAST PROSTHESIS
SILICONE GEL SHEETS
AMAY ENTERPRISES - YOUR BEST CHOICE FOR
COMPRESSION GARMENTS, SILICONE BREAST
PROSTHESIS OR COMPRESSION THERAPY PUMPS
WE ALSO OFFER COMPRESSION THERAPY PUMPS,
SILICONE GEL SHEETS, COMPRESSION SLEEVES,
STOCKINGS, ABDOMINAL BINDERS & MUCH MORE
A WIDE RANGE TO SUIT YOUR REQUIREMENTS. FOR MORE
INFORMATION, PLEASE CALL +91 9999 884 109, 9811 120 153

ADDRESS: 1046, BASEMENT, BLOCK - C, SUSHANT LOK - 1, OPP. VYAPAR KENDER
GURUGRAM - 122002, HARYANA (INDIA)
MOBILE: +91 99998 84109, +91 98111 20153